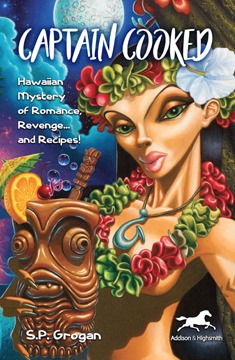 NEW —$24.99 – $33.99 Available now as Hardback, Soft bound. Order Now https://histriabooks.com/product/captain-cooked/
2022 Nominated for "Best in the World" by International Gourmand Cookbook Awards in categories: "Food Novel" and "South Pacific"
Captain Cooked features 25 recipes from the top chefs and restaurants on the Big Island of Hawai'i — Current edition is 10th Anniversary Special Edition — the book when first published won an award from the Hawaiian Book Publishers Association.
All she wanted was to find a quiet beach where she could go topless. It was not to be. Videographer Madison Merlot Dayne arrived on the Big Island to shoot the HDTV of her culinary father's popular television food show, "Insatiable Delights." But from the moment of her arrival, Madison and her father are involved in trying to discover who may have poisoned a revered Hawaiian singing star. Her working vacation involves riots, suspicious accidents, earthquakes, flowing lava, ancient Hawaiian war weapons, and a real 'cliff-hanger.' Madison is likewise having men problems. She desires island romance, but is not prepared for three men in her life… at the same time. And there is the mystery of the boiling cauldron. Will Madison get off the island alive?
25 Recipes from the Top Chefs and Restaurants on The Big Island of Hawai'i. Including: Lomilomi Salmon Wraps; Li Hing Mui Vingaigrette; Blanched Tomato & Japanese Cucumber Salad; Lava Flow Cocktail; Banana Papaya Sauce; Seared big-eye Ahi with Artichoke-Caper Polenta; Crystallized Ginger Chicken; Poisson Cru served with Patacones; Blue Hawai'i Cocktail; Pineapple Bomber Cocktail; Crusted Mahimahi with Crab Bisque –among others! GREAT ISLAND FAVORITES!
Quest Mystery — A Hawaiian war club worth $5,000 was hidden somewhere on the Big Island, clues hidden in the book, and found using GPS. The treasure hunt lasted three years, and ended without the war club being discovered. The clues were revealed in a past post on old website (and maybe posted in this location in the near future). To our knowledge the war club was never recovered. We will pay $300 for recovery. Many of the GPS locations are still on Geocaching.com site but the ammunition boxes with some clues may have been since 'muggled'.